HIGH ROAD Music - konsert i Skudeneshavn
EVENT INFORMATION

HIGH ROAD MUSIC
Countrygruppen High Road er fra Nashville, USA og består av de fire jentene Sarah Davison, Kristen Bearfield, Kinsey Rose og Ivy Phillips. Artistene spiller alle instrumenter selv: piano/keyboard, fiolin, banjo og gitar, og de synger både hver for seg og sammen. Sjangeren spenner fra Country, Bluegrass og Gospel.
Bandet ble startet i 2013, og har hatt et stort antall kirkekonserter, produsert videoer, og deltatt på musikkfestivaler som National Quartet Convention, Singing in The Sun, Grand Ole Opry og Gatlinburg Gathering. De har delt scene med mange kjente Gaither Homecoming artister, og samarbeidet med Karen Peck and The New River, Jason Crabb og The Talleys.
High Road har også i det siste blitt nominert til flere priser slik som «New artist of the year», de har seks "SGM Scoops Diamond Award" nominasjoner og en "Absolutely Gospel Music Female Group of the Year award." Og de er en av de mest populære gruppene på «Southern Gospel Radio».
Kirsten Grindhaug Larsen vil også delta på konserten i Skudeneshavn.
Vi gleder oss til konserter i Langesund, Kvinesdal, Sandnes og Skudeneshavn. Deretter venter Sarpsborg og Sverige.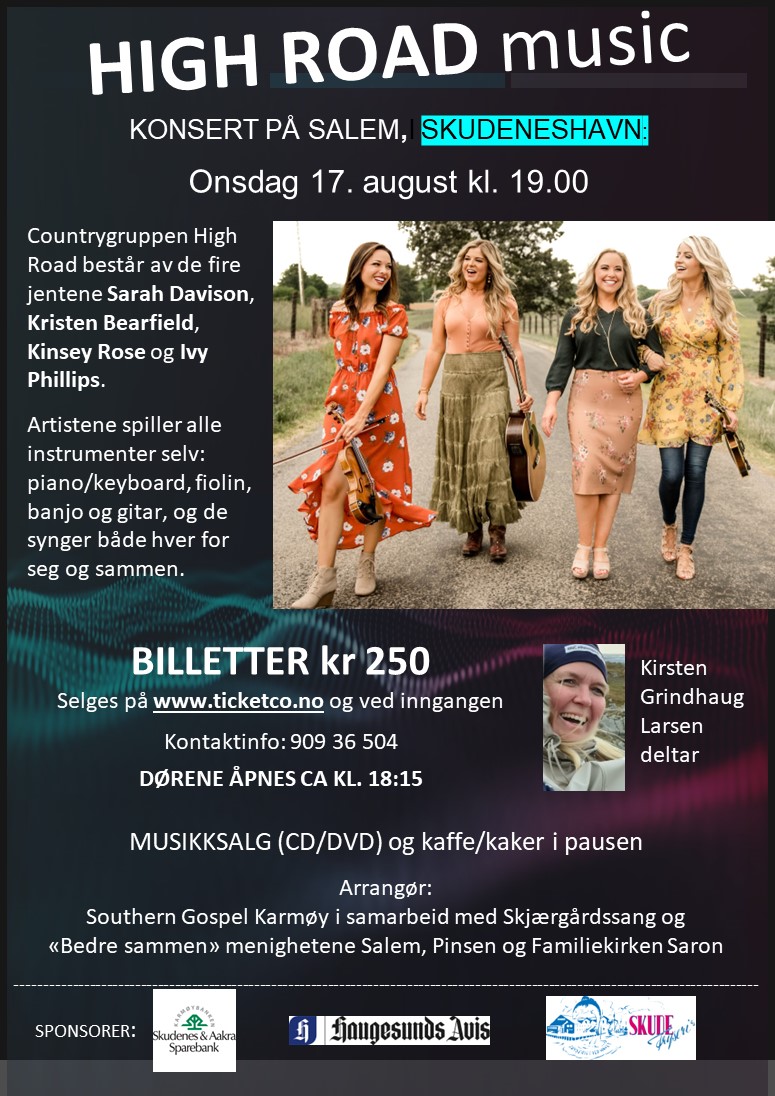 Restrictions
Ubenyttede billetter blir ikke refundert